Blog
2020 in Review With CS3 Photography
January 26, 2021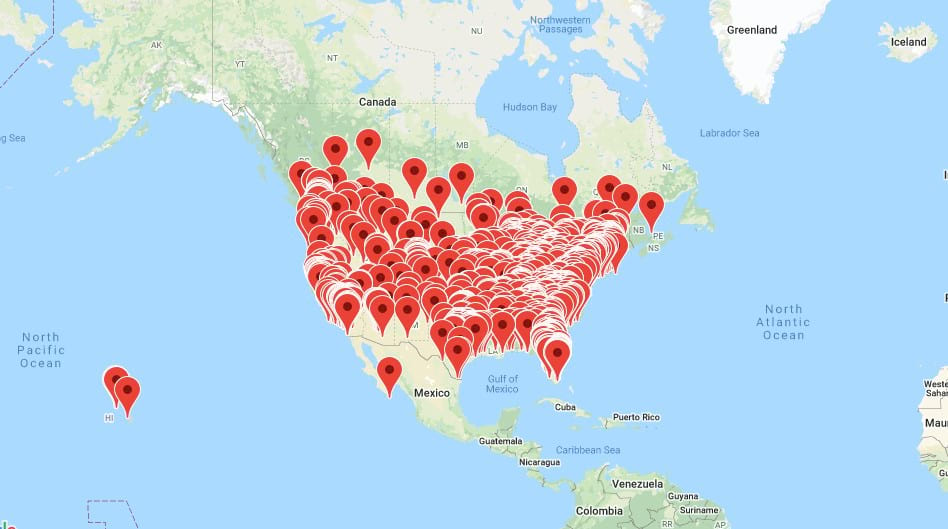 With everyone's favorite year behind us, we wanted to take some time and look back at all we accomplished during 2020. Like most businesses, it was an uncertain year, but we're thankful to be a leader in nationwide photography services. Our clientele includes some of the largest hospitality, restaurant and retail companies in North America — which are also the three industries hit hardest by COVID-19.
CS3 prides itself on being close to our clients and developing long-term relationships with our primary contacts, so outside of a professional loss, it was often difficult to see our friends lose their positions. There are many companies and industries hit much harder than we were, and we join all businesses in hopes that the new year brings better outcomes for everyone.
With everything that happened in 2020, CS3 still performed an extraordinary number of photoshoots all around the United States, Canada and Mexico. CS3 Photography works with businesses of all sizes in each state and in seven countries, and we're counting down the top ten states we visited during 2020.
Our Top 10 Photoshoot Locations for 2020
10. Tennessee
Outside of the beautiful rolling hills of this valley state, Tennessee boasts four main metropolitan areas: Memphis, Nashville, Chattanooga and Knoxville. Most of our shoots centered around Nashville and Memphis in 2020.
9. Washington
The Pacific Northwest has some of the best scenery in the United States. Unfortunately, photographing mountains doesn't pay the bills — but at least our team's photographers had great views on their way to the shoots in Seattle and Tacoma!
8. Ohio
Like Tennessee, Ohio is dotted with mid-sized cities. We photographed all throughout the I-71 corridor, but Cincinnati beat out their sister cities for the most photoshoots in one metro area for the state of Ohio.
7. Colorado
Should be no surprise that our top metro area for Colorado is the Mile High City of Denver! Since Denver is the only major city in Colorado, we could focus our team on helping businesses at a local scale. The Centennial, Lakewood and Aurora areas took the prize for the most photoshoots in the state!
6. New York
The Tristate area was home to most of our shoots in the great state of New York in 2020. Even with the city being one of the first COVID-19 hotspots and throughout major shutdowns for most of the year, CS3 was still able to help businesses looking to market themselves during the shutdown.
5. Georgia
Like Colorado, Georgia has one major city (although Savannah and Augusta certainly look up to their bigger sister, Atlanta). Buckhead, Alpharetta and Midtown were the hotspots for our shoots in 2020, with most clients being retail spaces.
4. North Carolina
North Carolina ranked high on this list because the state is home to a half dozen or so mid-sized cities as well as the large metropolitan area of Charlotte. Outside of Charlotte, CS3 performed many shoots in Raleigh, Fayetteville and Winston-Salem primarily for multi-family housing.
3. California
Despite this state having one of the longest shutdowns throughout 2020, California's massive size still earned it the third spot on our list. The Southern California and Bay Area were the top two areas for shoots in 2020.
2. Texas
Houston, Dallas and Austin were no strangers to the CS3 Photography team in 2020. The Dallas-Fort Worth area just barely edged out the Houston metroplex for most shoots in Texas for us!
1. Florida
Florida is our home state and where we have our biggest presence. CS3 Photography performed shoots in 59 out of the 67 counties throughout the Sunshine State. Miami-Dade, Broward, Orange and Hillsborough counties saw the most action with CS3 photographing a variety of businesses, from multi-family housing to hospitality and restaurants.
Our 2020 Shoots: North, South, East and West
CS3 also shot in some extreme geographical locations in North America as well. Here's a quick list of our most extreme geographical shoots per cardinal direction:
Southernmost shoot: La Pacifica Los Cabos in Cabo San Lucas, Mexico
Northernmost shoot: Hampton Inn and Suites Edmonton West, Edmonton Canada
Easternmost shoot: Quality Inn and Suites, Summerside, Prince Edward Island, Canada
Westernmost shoot: Spectrum Mobile, Kapolei, Hawaii
Our team is optimistic about 2021. We're looking forward to getting back to normal and focusing on what we do best — nationwide photography. We wish everyone a happy, healthy and successful 2021!